The 9 types of moms you'll see at Target
Look, Target is amazing. AND we are all guilty of going in to get toilet paper but leaving with $200 of stuff we don't need.
Well, Popsugar.com put together a list of the different types of moms you'll see there, and it's hilarious!
1. The Solo Mom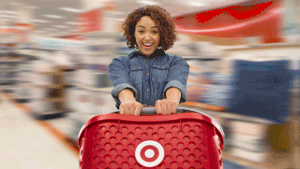 She hasn't run errands by herself in a while, and a solo trip to Target is just about as good as a spa day.
2. The Not-Used-to-Shopping-With-Kids Mom Her kids are in school all year long, and she makes sure her errands are done while they're in class. When Summer hits, and she's forced to take them along on her weekly Target run, she's totally unprepared for the stress of shopping with kids.
3. The "Yes You Can" Mom She's just trying to get through the store, so when her kids ask if they can have those doughnuts, that candy bar, that headband, and that blind-bag toy, she's saying "yes" just to keep them happy and moving along.
4. The About-to-Lose-It Mom She's hit her limit with her kids' whining, begging, fighting, and running away, and if she didn't really need toilet paper and peanut butter, she'd be out. Give her a nod to let her know you've been there, too.
5. The Toy-Section Avoider She's spent years keeping her kids away from Target's toy section, and if they ever venture close by, she's quick to redirect them to a safer zone, like greeting cards or towels.
6. The Toddler Chaser Her kid seems to think Target is the perfect place for a couple of games of hide-and-seek and catch the kid. You'll see her try to keep it nonchalant at first, but when she realizes he's totally escaped and she has no idea where to, that's when the running begins.
7. The Cart Abandoner It's been a bad day for this mom, culminating in her child throwing such an epic meltdown that she's had to abandon her full cart of groceries, baby gear, household must haves, and two bottles of her favorite wine and call it a day. The idea of persevering through checkout is just too much.
Click here to see the last 2! I am not a mom, but I'm #9.

Falen
Want to know more about Falen? Get their official bio, social pages & articles on 101.3 KDWB!